Triple T Haven unites Survivors, Community, Clinicians and Horses to provide a safe place to heal…Treating Trauma Together.
Triple T Haven would not exist without community support. Donations go toward scholarships for Trauma Survivors.
After four years of program development and pilot studies, Triple T Haven is now actively providing an Intensive Equine Assisted Therapeutic Program for Trauma Survivors. Participants report: "Hope for Healing, Acceptance, Empathy, Fortitude, Perseverance, Generosity, Loving Kindness, Connection and Joy!"
These opportunities would not be possible without the support of our community. Our hope is to meet the needs of trauma survivors when they are ready to heal, regardless of income.
Join us now to support
A Safe Place to Heal. 
Sponsor a Survivor today! 
Tax-dedutible donations are available through our fiscal partner, Operation Kids, a 501c3 non-profit. 100% of donations go toward Scholarships for Survivors. For tax deductible donations, please make a check out to: Operation Kids; subject line Triple T Haven. Checks can be mailed via USPS to: Triple T Haven 40047 Weld County Road 31 Ault, Colorado 80610
To become an Annual Sponsor, Contact Us
Together we hold safe space for our most wounded to heal.
For other donations (not needing a tax deduction) simply click the donate button below and donate through Paypal or with a credit card. Thank you!

COVID-19 EMS Fund
We have been contacted by local physicians and emergency providers who are in need of trauma recovery assistance at this time. A special scholarship fund is being established by our providers to give to medical personnel who are on the front lines battling the COVID-19 virus. If you would like to donate to this worthy cause please click on the donate button below and select COVID-19 EMS FUND in the drop down menu.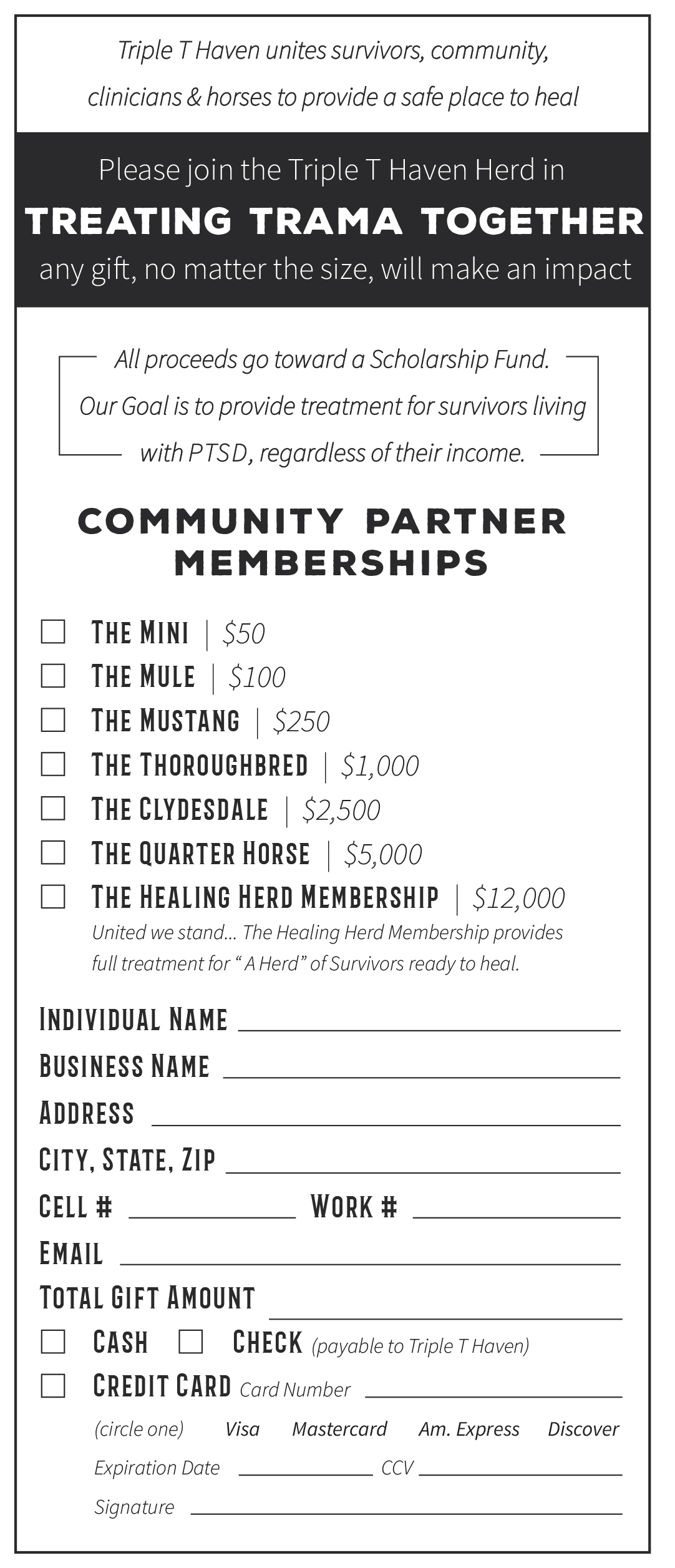 Check out our Equine Assisted Corporate Training! 50% of proceeds go toward Triple T Haven scholarships. Productive…Challenging…and FUN!!!